Douglas Yeo announces his appointment
as Professor of Trombone at
Arizona State University, effective Fall Semester 2012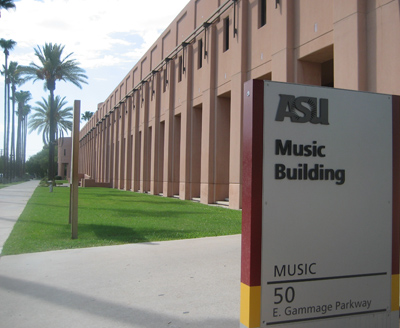 I am pleased to announce that I have been appointed to the position of full-time Professor of Trombone at Arizona State University (Tempe, Arizona) beginning with the Fall semester, 2012. The official announcement made by ASU may be found HERE.
The School of Music at Arizona State University is part of the University's Herberger Institute for Design and the Arts, and is one of the most highly regarded schools of music in the world. The School has a first rate facility - including the ASU Gammage Performing Arts Center, one of Frank Lloyd Wright's last designs - a superb faculty, and an innovative curriculum. The trombone studio has long been a highlight of the ASU School of Music. For 37 years, Gail Eugene Wilson was Professor of Trombone at Arizona State University. During his tenure, he built an extraordinarily successful trombone program at ASU, and nearly two generations of trombone students came through his studio door; many of them can be found today in symphony orchestras and University/Conservatory teaching positions around the country. Since Gail Eugene Wilson's retirement in 2009, Ralph Sauer (retired principal trombonist of the Los Angeles Philharmonic) has been Visiting Professor of Trombone at ASU, and he has continued the high standard of trombone teaching at ASU. Ralph Sauer will be leaving ASU in May 2012, and I will take up the position of Professor of Trombone immediately following my final concert with the Boston Symphony - Berlioz's Symphonie Fantastique - on August 5, 2012. I am honored to follow in the footsteps of these fine teachers, and I look forward to this unique opportunity to challenge and encourage another generation of trombone players at Arizona State University. I am also looking forward to working the other brass faculty members at Arizona State University, people who are recognized as among the finest teachers and performers in the world on their instrument: David Hickman (trumpet), Sam Pilafian (tuba and euphonium) and John Ericson (horn, and coordinator of the brass area).
During my visits to Arizona State University, I have been impressed with many aspects of the University, and the School of Music in particular. Sam Pilafian often refers to the ASU School of Music as, "The Desert Proving Ground" - it is a place where ideas are brought to fruition in the crucible of experimentation and experience. The School has an extraordinarily creative approach to education, and faculty are able to tailor their teaching to the particular needs and goals of their students. The music program at ASU offers programs leading to 15 different types of music degrees on all levels - Bachelor, Master and Doctoral. One of the School's great strengths is the great diversity of students who are majoring in performance, education, composition, music therapy, digital media and much more. As a result, ASU's model for education prepares students well for the challenges of the workforce where the ability to do interdisciplinary work gives an edge to those in the marketplace.

Arizona State University is also one of the most affordable places in the country to study music. Arizona State University undergraduate Arizona resident tuition for 2011-12 is under $10,000 for the year; for out-of-state residents, tuition is about $22,000. Use the ASU Tuition and Fees Cost Calculator found in the links below to get an even more complete picture of the great value in education that can be found at ASU in comparison to other leading Schools of Music.
While I will not start teaching at ASU until August 2012, I am already working behind the scenes, making plans for my arrival on campus. Over the summer, I will be announcing activities for the trombone studio at ASU that will include weekly pedagogy/literature class, trombone studio class, trombone ensemble, social activities and much more. I will have an "open door" policy for students and will be available for conversation and advising. We will be having collaborations with the other brass studios at ASU, especially the tuba/euphonium studio that provides natural connections for trombone players. When I formally interviewed for the Professor of Trombone position in September 2011 - a process that included meetings, a recital, teaching and conducting - I spent time with both students and faculty, getting a sense of how things have been done at the School while thinking of new, creative initiatives that I can bring to the table when I arrive. I am interested in building espirit d'corps among our trombonists, and my goal is to have ASU be the best, most significant, consequential, interesting, enjoyable, satisfying, and important place in the world to study trombone for any degree program. These initiatives will begin to be announced in summer 2012.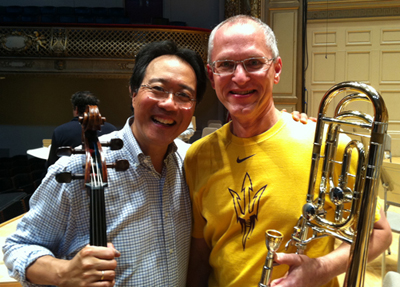 In the meantime, I would like to encourage students who might be interested in studying trombone - and at ASU I will be teaching alto, tenor, bass, and contrabass trombone as well as sackbut - to consider Arizona State University. Here are a few links that will give you a good sense of what the ASU School of Music is about and where you can get complete, up-to-date information about auditions and programs:

The Arizona State University School of Music has several audition dates for admission for Fall 2012. Trombone applicants can plan to audition at any time, but I will be attending the auditions on February 11, 2012. If you can plan to audition on that date, I would have the opportunity to meet you. Students auditioning on other dates will have their auditions heard by the other brass faculty and the auditions will be videotaped so I can evaluate them. Arrangements can also be made for a prospective student to audition for me in Boston.

It is important to remember that if you want to audition at ASU, the application deadline is December 1, 2011 for graduate students, and January 15, 2012 for undergraduate students. These are firm deadlines; there are no exceptions. Also, prospective students need to complete applications both to Arizona State University AND the ASU School of music. The links above, particularly the link for ASU School of Music Admissions, will answer all of your questions regarding applying to ASU.

If you are interested in studying trombone at Arizona State University, please contact the Arizona State Univeristy School of Music Admissions Office via the links above with any questions you may have. You may also contact me with questions through the email link below.

*****
Arizona State University School of Music
Graduate Teaching Assistantship in Trombone
For 2012-2013
Job Description
Arizona State University's School of Music (Tempe, Arizona) will have an opening for a new Teaching Assistant in the trombone studio in the fall of 2012. Duties include assisting with the trombone portion of the brass lab (methods) course and assisting with teaching the trombone studio. This is an excellent opportunity for an advanced trombonist at the MM or DMA level of study to work alongside Professor Douglas Yeo. The trombone studio has two Teaching Assistant positions; this new Assistant will work along with Garrett Haas, the 2011-12 trombone Teaching Assistant who will continue in that role in 2012-2013.
The Assistantship
Teaching assistantship awards in the Herberger Institute School of Music at Arizona State University are typically 25% appointments (10 hours per week), with a compensatory stipend of $3,000. For tuition purposes, teaching assistants are waived nonresident tuition and qualify for Arizona resident tuition (benefit value of $14,124 for 2011-2012). In addition, teaching assistants with quarter-time appointments receive a 50% reduction in the resident portion of their tuition (benefit value of $5,110 for 2011-2012). Additional merit-based scholarship aid will also be available. The application deadline for admission to ASU for the 2012-2013 academic year is December 1, 2011.
About the ASU Trombone Studio
Arizona State University's School of Music has for decades been one of the most important places in the world to study trombone. In Fall 2012, Douglas Yeo will take up the position of Professor of Trombone, following in the tenures of Gail Eugene Wilson and Ralph Sauer. Graduates of the ASU trombone studio can be found in symphony orchestras and in teaching positions around the world.
About Arizona State University
Arizona State University is home to one of the top music programs in the country, excellent student ensembles, superb facilities, and a world-class program of study. With over 800 music majors and 100 faculty, a wide variety of degrees are offered including undergraduate degrees in performance, music education, and music therapy, the Master of Music in performance, and the Doctor of Musical Arts. For more information contact Douglas Yeo by email through the link below. Click HERE for more information about Graduate study at the Arizona State University School of Music.
---
PHOTOS:
1. Arizona State University Music building (West Wing, where the trombone studio is located).
2. ASU Gammage Performing Arts Center. The view is from a window in the trombone studio.
3. Arizona State University Music building (West Wing and East Wing).
4. Yo-Yo Ma and Douglas Yeo in conversation about ASU at Symphony Hall, Boston, October 2011. Photo by Toby Oft.
---
Unless otherwise noted, all text and graphics on this website [yeodoug.com] are
©1996-2013 by Douglas Yeo.
All rights reserved.