---
Daniel Chester French
"Alma Mater"
---
The school we know as Columbia University was founded as King's College by King George II in 1754. After the American Revolution, the school was rechartered as Columbia College in 1784 and subsequently was renamed Columbia University.
Columbia College's seal (see the image above), designed in the 1700's, shows a stylized image of "Alma Mater" (latin for "nourishing mother," a common term for the college one attends). Holding the scepter of wisdom, the words below "Alma Mater" reference verses from 1 Peter 2: "Wherefore laying aside all malice, and all guile, and hypocrisies, and envies and all slander, as new born babes, desire the sincere milk o fthe word, that ye may grow thereby." Above "Alma Mater" is a portion of Psalm 36:9, "By your light do we see."
Harriette W. Goelet commissioned Daniel Chester French to make a memorial to her husband, Robert Goelet, who graduated from Columbia University in 1860. Design of the statue (in bronze, on a marble and granite base designed by McKim, Mead & White) began in 1900 and it was unveiled and dedicated on September 23, 1903. "Alma Mater" sits in front of Columbia University's Low Library on its main campus in Morningside Heights in Manhattan, New York City, New York. The statue and its base underwent a major renovation in 2003, in preparation for the 100th anniversary of its installation. Details about the renovation can be found in an article in "Columbia News".
All photos below were taken by Douglas Yeo in March 2003.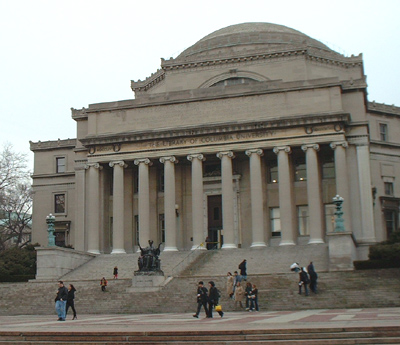 Daniel Chester French's "Alma Mater" sits in front of Columbia University's Low Library in a plaza which is at the center of the university's campus. This photo shows the nearly 12 foot high statue as situated in the middle of the stairs leading to Low Library.
"Alma Mater" sits on a base of marble and granite which was designed by French's friend, Charles Follen McKim. It was McKim who recommended French to Harriette Goelet to create the sclupture in memory of her husband.
Typical of French's monuments, the statue of "Alma Mater" is rich with imagery. "Alma Mater" sits in a klismos chair, arms stretched upward. In her right hand is a sceptor which ends in four heads of wheat which hold a crown, part of the original seal of King's College. The chair arms each have a lamp which symbolizes Sapientia (Wisdom) and Doctrina (Teaching). An open Bible rests on "Alma Mater's" lap.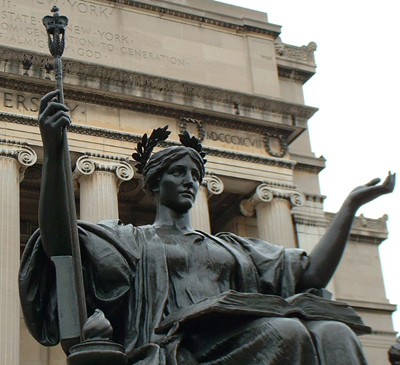 A close up view of the upper torso of "Alma Mater."
The back of "Alma Mater," showing the view toward the center of Columbia University's campus, and the detail of the chair.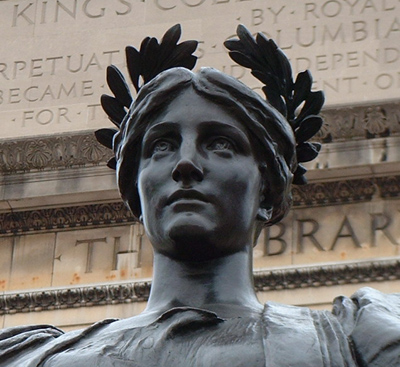 "Alma Mater's" face is one of the most beautiful in French's output. The model may have been Mary Lawton, an actress and friend of French's.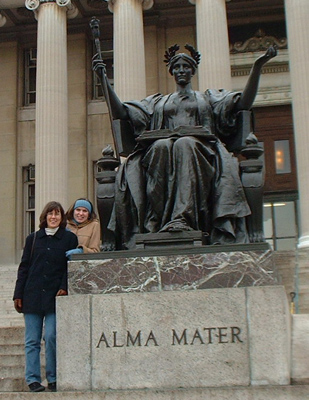 I could not leave French's "Alma Mater" without this personal note: my wife, Patricia, graduated from Columbia University Nursing School, class of 1978. Here is Pat and our youngest daughter, Robin, standing next to "Alma Mater" in what was Pat's first visit back to the Columbia campus since her days in nursing school.
Return to the Daniel Chester French: Sculptures In Situ page
---
Unless otherwise noted, all text and graphics on this website [yeodoug.com] are ©1996-2013 by Douglas Yeo.
All rights reserved.