---
Daniel Chester French
"Africa"
---
Daniel Chester French's sculpture of "Africa" shows the continent to be mysterious, shrouded in unknowns and a rich past. The "sleeping continent" was just beginning to emerge in the early 1900's when French made his sculptures of the "Continents."
All photos below were taken by Douglas Yeo in March 2003.
A front view of Daniel Chester French's "Africa." "Africa" is seen as the only nude of the four continents, in keeping with the stereotype of tribal peoples who did not wear much clothing. "Africa" is seen sleeping; the "sleeping continent" was a common way of referring to Africa. "Africa's" right arm rests upon Sphinx of Egypt , her left arm on a sleeping African lion.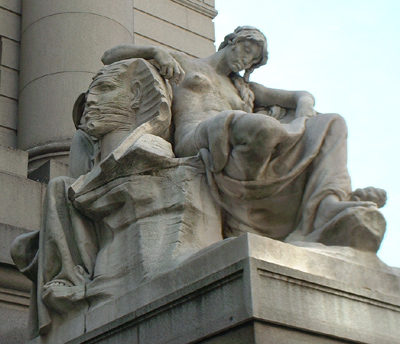 This left front view of "Africa" shows more detail of the Sphinx, its weathered face a testimony to the centuries it has endured the sand and heat. Note the elegance of "Africa's" robe, how it clings gently to the legs of the sculpture of the continent.
Seated behind the Sphinx is a shrouded figure, mysterious and unnamed. Critic Charles de Kay said of this figure, it "expresses the mystery of the deserts and the unexplored recesses of Africa's primeval forests."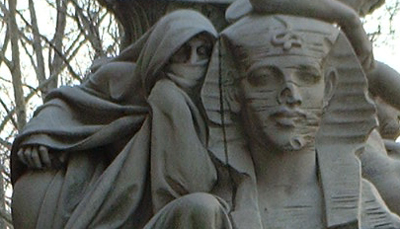 A closeup view of the mysterious shrouded figure and the Sphinx, part of "Africa."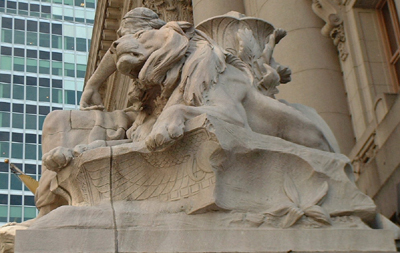 A view of the right side of "Africa, " showing the sleeping lion which rests upon ruins of some ancient building.
Return to the Daniel Chester French: Sculptures In Situ page | Return to the Daniel Chester French: Continents page
---
Unless otherwise noted, all text and graphics on this website [yeodoug.com] are ©1996-2013 by Douglas Yeo.
All rights reserved.