---
Daniel Chester French
"America"
---
Daniel Chester French's sculpture of "America" is rich in imagery reflecting both North and South/Central America. The striking figure of "America" is the most active of French's "Continents," seeming ready to leap out of her chair, hair blowing in the wind.
All photos below were taken by Douglas Yeo in March 2003.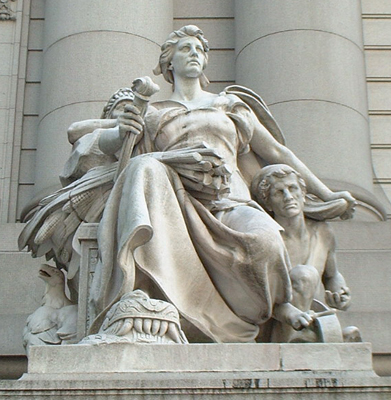 A front view of Daniel Chester French's "America." "America" is seated on a throne, her right foot on the head of Quetzelcoatl, the plumed serpent from Central and South American Indian cultures. A torch in hand, her left arm is pulling her cloak over an image of "Labor" which is rolling a wheel of progress. Peering over "America's" right shoulder is an American Indian in head dress, and sheaves of corn, symbolizing, in French's words, "the American idea of Plenty," are across "America's" right knee.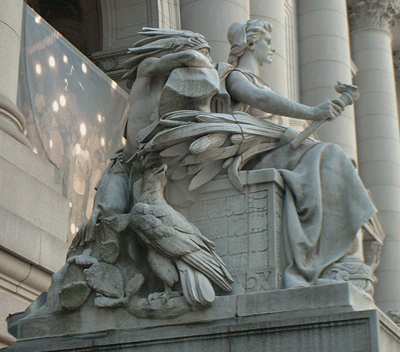 This left side view shows "America" seated on a throne decorated with Mayan glyphs. An eagle, the symbol of the United States of America, is seen perched next to southwestern cacti. An American Indian is seen crouching behind "America."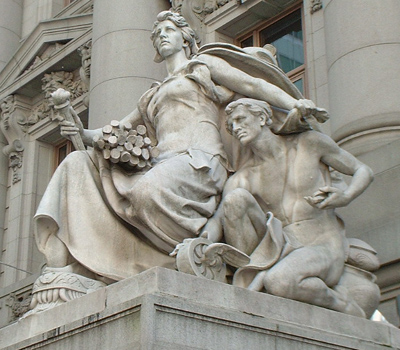 A right view of "America," showing "Labor" rolling the wheel of progress in his right hand.
This full right side view of "America" shows an image of a raven peering down at "Labor," in the form of an arctic/northwestern Indian totem pole.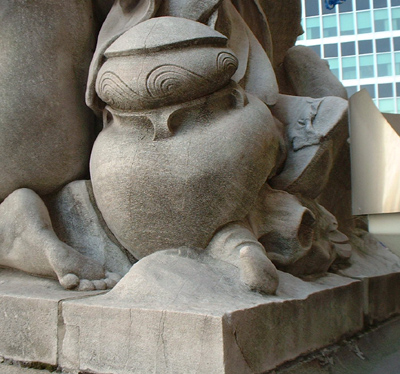 At the back right of "America" a broken Indian pottery vessel is shown, next to a buffalo skull. The metal object on the far right of the photo is a casing for lighting which illumninates the Old Custom House at night.
Return to the Daniel Chester French: Sculptures In Situ page | Return to the Daniel Chester French: Continents page
---
Unless otherwise noted, all text and graphics on this website [yeodoug.com] are ©1996-2013 by Douglas Yeo.
All rights reserved.