---
Daniel Chester French
"Memory"
---
In 1886, Daniel Chester French first completed a model of a reclining female looking in a mirror. Cast in bronze, it was not until 1909 that he took up the figure, which he named "Memory" in order to put more details into his initial design. Between 1917-1919, "Memory" was sculpted into marble and it was purchased by the Metropolitain Museum of Art for $24,000.
The statue is interesting in part for the fact that the mirror which the figure holds does not reflect her own face, but that which is behind her. F. W. Ruckstull, a friend of French's, praised the statue, saying, "That is what I call Great Art - Universal yet personal; nude but not naked; True, Good and Beautiful."
"Memory" may be found in New York City's Metropolitan Museum of Art's American Wing Courtyard, an interior sculpture garden which is lush with plantings and fountains. It was moved to its present location within the courtyard in 2009 when the American Wing was reopened after a lengthy renovation. The statue is serene and contemplative, and represents one of French's finest figures.
All photos below were taken by Douglas Yeo in October, 2009 apart from the photo of "Memory" in its original setting which was taken in April, 2002.
Daniel Chester French's "Memory" in situ as viewed from the front. The inscription on the base reads, "MEMORY by Daniel Chester French. American School, 1850-1931. Gift of Henry Walters, 1919.
Behind French's "Memory" can be seen Louis C. Tiffany's "Garden fountain and Landscape."
A front view of "Memory." Click HERE to download a higher resolution image of this photo.
A view of Daniel Chester French's "Memory" from the left, showing French's "Mourning Victory" in the background.
A view of Daniel Chester French's "Memory" from the back, showing French's "The Angel of Death and the Sculptor" in the background.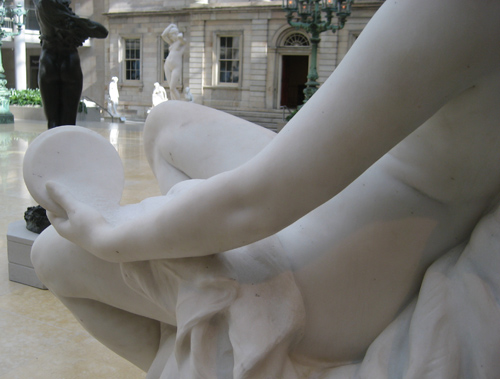 This is a close up view of the left arm and mirror of "Memory."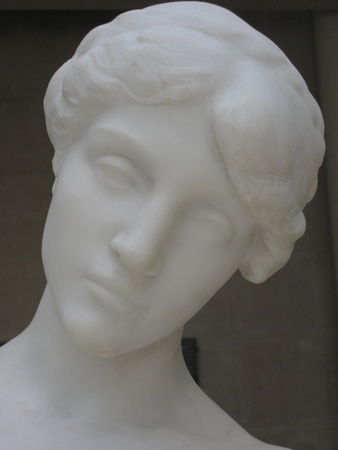 A detailed view of the head of "Memory."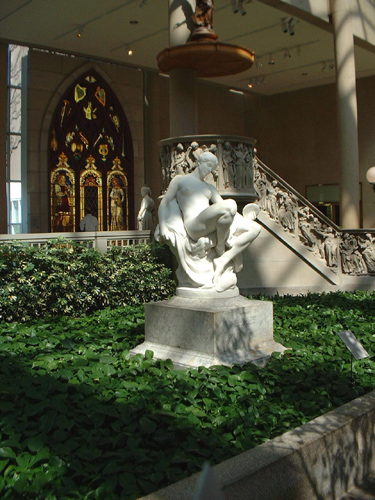 This photo shows "Memory" in its original placement in the Metropolitan Museum's American Wing Courtyard before being moved in 2009 to its present position. While the original position was a setting of lush beauty and color, its current position allows one to get much closer to the sculpture.
Return to the Daniel Chester French: Sculptures In Situ page.
---
Unless otherwise noted, all text and graphics on this website [yeodoug.com] are ©1996-2013 by Douglas Yeo.
All rights reserved.